Concerts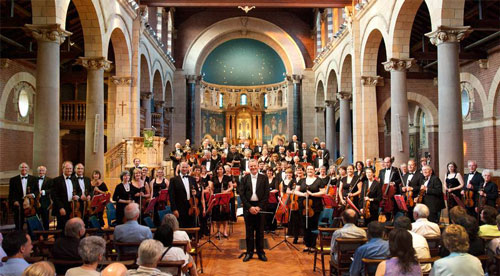 The Orchestra usually performs five concerts a year in Leicestershire in January, March, June, September and November and tours to chosen cities of the UK every three years in May. The 2019/2020 and 2020/2021 seasons were severely truncated though, due to the restrictions resulting from COVID-19.
With rehearsals having started up again in September 2021, the four concerts currently planned in the 2021/2022 season are outlined below and the concert brochure is available to download here.
Tickets for the concerts are available on the door, or to avoid disappointment (our Viennese concert usually is a sell out) you can buy your tickets in advance using one of the methods below:
From a member of the Orchestra in person.
Buy your tickets online below via Paypal.
Contact tickets@charnwoodorchestra.org.uk for more ways to purchase tickets.
Tickets purchased in advance can be collected on the door at the concert. Advance sales will be available until the Thursday before each concert.
Interested in what we have played in previous years? Visit our Concerts Archive.
New Year Concert 2022 (Vienna and beyond)
Full details
For our first post-lockdown concerts, to help everyone feel safe and comfortable, we have limited capacity. For this concert, tickets are available from Taylor's Florist, 17 High Street, Barrow upon Soar, LE12 8PY, as well as from orchestra members, PayPal (below) and tickets@charnwoodorchestra.org.uk.
Full second half programme:
Johann Strauss II. Fr체hlingstimmen waltz
Josef Strauss. Moulinet polka
Josef Strauss. Emancipierte polka
Johann Strauss II. Ballstr채usschen polka
Offenbach. Barcarolle from The Tales of Hoffmann
Johann Strauss II. Bauern polka
Johann Strauss II. Blue Danube
Johann Strauss II. Thunder and Lightning polka
Johann Strauss I. Radetzky March


Spring Concert 2022
Full details
UPDATE: Olga Eckert is no longer able to play with us in March and our new soloist will be George Ewart.
A Night at the Opera - Summer Concert 2022
Full details